MCC Classified Ads
Vehicles for sale
Albany Cutter
This sleigh is circa 1880-1890, fully restored in excellent condition. We would like $4500 or best offer. Interested parties can contact us at mensik@earthlink.net or by phone 406-446-4168. Kathe and Bob Mensik, Red Lodge, MT 59068.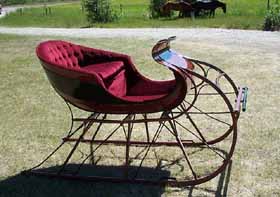 Brougham
This Brougham was built in the United States by a firm called The Riddle Coach and Hearse Company between 1891 &1912. It is fully restored. The interior is finished off in wool broadcloth and the seats are upholstered in leather. It is painted black running gear with body black above and brewster green below & brass trim. Lamps are original and go with the vehicle. It is set up with a pole and eveners for a pair.
Contact John Erskine, 14410 Old High Bridge Road, Monroe, Washington, 98272 . Phone # 360-794-4037 or Email; highbridgeshires@hotmail.com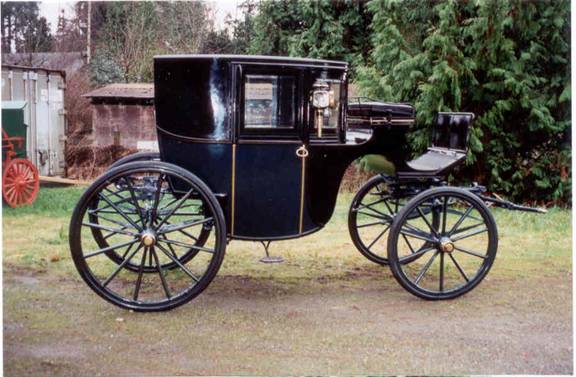 Restored 1880 5th wheel freight wagon
The wagon was restored in 1980 by Mel Dewitt in Moscow, Idaho. The box is 12' long and made of natural straight grain fir, running gear is oak, rubber on wheels with original boxings, bottom of seat to ground is 6 1/2', wagon weighs 2,000 pounds. All the metal is painted black. The wood is all natural and has a linseed oil finish which over the years has changed to a very rich, golden patina. It has Seagraves axles with original brass hubcaps. We left the shackles untouched so you can see the wear on them. It has always been stored inside. Included: straight tongue, yoke, doubletree that came with the wagon, new wood blank tongue, steel tongue and new yoke. We have had 2, 4 and 6-up configuration on the wagon. We have owned this wagon since it was rebuilt and also have some of the history on it.
This wagon would work well with light horses, mules or draft horses and draft mules. $10,000.00. Contact Darel or Suzy Fuller by phone at 509-765-3200, or e-mail at sfuller@nwi.net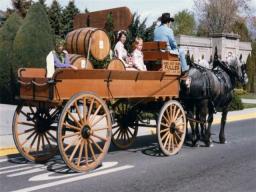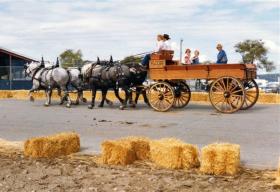 New Cart
New, never before hitched, easy entry, full horse size cart. $800.00 Contact Linda Stone at (208) 798-7349.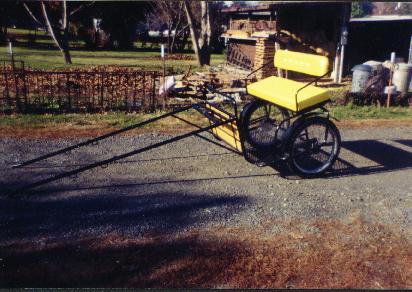 Vehicles wanted
 Misc. for sale
Misc. wanted
Books for sale
Wheel, Wheels, Wagon and More, written by Mel DeWitt, describes, with both text and photos, construction of wooden wheels. $24.95 postage paid in U.S. and Canada. Send order to Donna DeWitt, 714 Lewis, Moscow, ID 83843.
Wheelwrighting, A Modern Introduction, written by Bruce & Joyce Morrison, is a thorough "how to" book on wheelwrighting. Additionally, a large number of appendices provide additional information on where to find wheelwright training, reference information for wheelwrights, measured drawings for building wheelwright tools, as well as techinical sections. $46.00, US and Canadian. Send orders to Bruce Morrison, Cottonwood Press, 653 Morrison Ave., Parksville, BC, V9P 1G3. Email orders to jlm123@shaw.ca Website is http://www.wheelwrighting.ca
Wheelwrighting / Wheelwright Instruction / Wheelwright Equip. / Carriage Work / Carriage Sales/
Buckboard Kits / MCC Classifieds / Links / General Information / Home
Send mail to mcctwigg@turbonet.com with questions or comments about this web site.