Wheelwright Equipment
I sell tire rollers, rubber tire mounting machines, hub mortise indexers, and tenon augers. If, after viewing the next page, you need more information on any of these items or are looking for other pieces of equipment, please contact me.
Click on any photo, then scroll for more details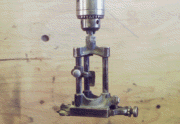 Wheelwrighting / Wheelwright Instruction / Wheelwright Equip. / Carriage Work / Carriage Sales/
Buckboard Kits / MCC Classifieds / Links / General Information / Home
Send mail to mcctwigg@turbonet.com with questions or comments about this web site.