Wheelwright Instruction
If you would like to learn wheelwrighting for a business, hobby, or just for something fun to do, give me a call regarding wheelwright instruction. You, the student, will come to my shop for a week and have individual instruction for 40+ hours. During that week, you will learn how to build any type of wooden wheel you will ever see, as well as build at least one set (four) buggy wheels to take home with you. You will start by making hub cores and continue through the processes of boring and boxing hubs, setting tires, and mounting rubber.
Click on any photo then scroll for more information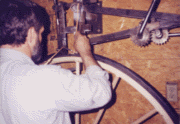 Wheelwrighting / Wheelwright Instruction / Wheelwright Equip. / Carriage Work / Carriage Sales/
Buckboard Kits / MCC Classifieds / Links / General Information / Home
Send mail to mcctwigg@turbonet.com with questions or comments about this web site.